Description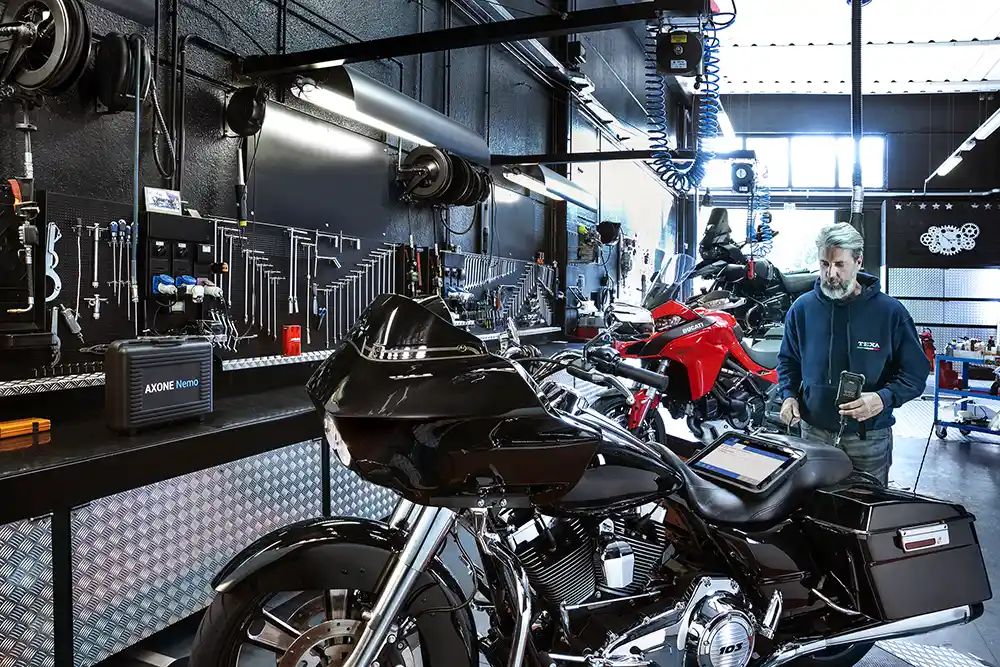 Our Dealer Level TEXA Bike Premium Diagnostic Bundle features everything you need to operate dealer level diagnostics on bikes. This bundle includes: TEXA Axone Voice, TEXA IDC5 Bike Software, TEXA Navigator TXT Multihub, Bike Essentials Cable Case, and Bike Power Supply For Multihub. This bundle features the best in class computer, software, VCI, and cables needed to perform dealer level diagnostics on Bikes.
Need A Customized Solution?
Do you need a diagnostic system customized to fit your exact needs? As a TEXA direct dealer we have access to customize products to fit your exact needs. We also have access to the best prices and promotions. Let us help you build the perfect diagnostic solution.

Axone Voice
If you are looking for the best diesel diagnostic computer on the market you can't beat the AXONE Voice. This product was just released and has state of the art market leading technology. TEXA and Microsoft designed it to live up to the highest performance standards. It has ultra fast loading and scanning times. The "Hey TEXA" hands free assistant will help you do more without even touching your device. If that wasn't enough it is also: military grade, rugged, drop tested, waterproof, and has the capabilities to work on every IDC5 Environment on one device. 

TEXA IDC5 Bike Software

The TEXA IDC5 Bike Premium Software is one of the leading bike diagnostic softwares on the market. TEXA leads the bike OEM programming world with collaborations and partnerships throughout the bike industry. Whether you have an E Bike, a Road bike, or an off road bike, TEXA IDC5 BIKE has you covered. This software even works on some of the most common personal watercrafts!  
TEXA Navigator TXT Multihub
The Navigator TXT Multihub is a state of the art VCI that was just released by TEXA this year. There is no other vehicle communication interface on the market that has more features and functionality than the Navigator TXT Multihub. This product is used as the interface between the vehicle diagnostic port and software.
Bike Essentials Cable Case
The Bike Essentials Cable Case includes: Cable Case, Bike Main Cable 3151/AP01, Triumph/Victory/OBD Cable, Generic Kawasaki Cable up to 2010*, Generic Suzuki Cable, Generic Honda Cable, Ducati Cable from 2010, Generic Kawasaki Cable from 2010, BMW Cable, Harley Davidson Cable, Yamaha Bike Cable.
What Vehicles Can I Use This Diagnostic Bundle On?
Our Dealer Level TEXA Bike Premium Bundle can be used on road bikes, e-bikes, off road bikes, and some personal watercrafts. It gives OEM functionality to all brands of bikes.
We Have The Best Prices On – Dealer Level TEXA Bike Premium Diagnostic Bundles
We have the best prices on dealer level bike diagnostic bundles. If you need a bundle customized to fit your exact needs please reach out to us!